While photos may initially grab a buyer's attention when browsing online real estate listings it's the property description that gets them interested. Real estate listing descriptions tell the story of the home and give buyers insights into what life is like There.
According to the Group Consumer Housing Trends Report 2019 survey data 78% of sellers value agents who promote their listings on real estate websites and 83% of sellers market their homes with the help of an agent. This means that as an agent you are usually responsible for writing authentic Property description. This guide explains 15 best practices on how to write real estate listing descriptions.
Craft a catchy headline
You only have seconds to grab the buyer's attention. Keep the title short and use descriptive words that evoke a reaction and compel potential buyers to read on. Each title should include family- or location-specific benefits. Here are some fascinating real-world examples Real estate headlines:
Chicago Apartments: West Loop Apartments with Private Roof Decks and Unobstructed City Views
Boston's Brownstones: Historic Homes With Breathtaking River Views
Bay Area Townhouses: Mill Valley Loft-Style Living
Include an opening statement
You need to immediately inform the buyer of the main benefits of the home and prove its value. Showcase key features that you can't display in the title to keep buyers reading. If the home offers some welcome features it should be included in the opening line of the property description Yes:
"This single-family home in Austin has been upgraded with stainless steel appliances and has an open floor plan."
"Check out this spacious townhouse with a private backyard and easy access to the lake."
"This recently renovated apartment is located on the top floor of a modern high-rise building in downtown Seattle – including free indoor parking."
Some popular features will be included in the opening remarks if offered by the house:
Parking, especially in city listings
Double garage or larger
Private backyard or outdoor space
Mountain, lake or ocean view
Lakefront or riverfront property
Near public transit
Renovating the kitchen (especially stainless steel appliances or upgraded countertops)
Mother-in-law suite or other passive income potential
Flexible or room to expand
Lush landscaping
Choose adjectives that sell
Using the right words when writing your home description can attract more buyers and lead to higher selling prices. An analysis of 24,000 home sales in "Zillow Talk: Rewriting the Rules of Real Estate" shows that listings containing certain terms tend to sell for more than expected.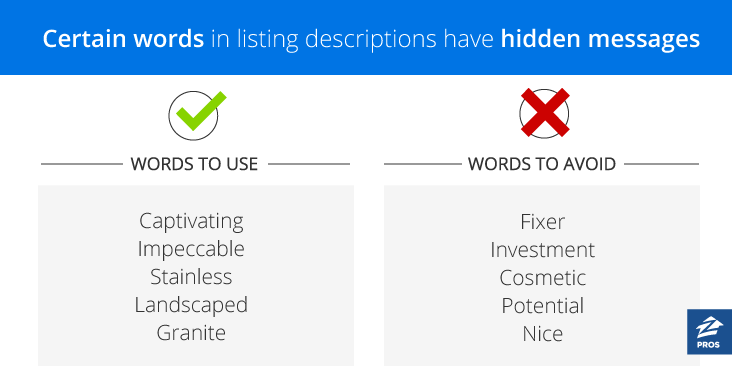 Consider including some descriptive real estate words in your listing description:
Luxurious: When this term is used the median estimated value in the bottom third of the market is 8.2% higher than the expected sale price.
Captivating: Homes in the top third of the market with the median estimated value sold for 6.5% more than expected when the word was included in the listing.
Other words found to add value:Stainless Steel (Appliances) Granite Basketball (Hoop or Court) Landscape Pergola Remodel Tiles Upgrades and Updates Impeccable and Beautiful.
Avoid words with hidden messages
On the other hand here are some real estate descriptive words that can lower the final home sale price:
Fixer: Zillow Talk found that homes using this term sold for 11.1% less than expected.
Potential: Items containing this term sold for 4.3% less than expected.
Opportunity: The expected sale price of homes using this term decreased by 2%.
Other words to avoid:Investor Bargain Cosmetics TLC Must See and Nice.
If you find yourself running out of space try reducing some key stats like square footage and number of bedrooms—information that can be easily accessed in other areas of the list.
Highlight unique features
Creative real estate listing descriptions get buyers involved and differentiate your listing from others in the area. Always be specific and descriptive and avoid long sentences.
Home features
When describing a home's interior consider invoking name-brand appliances floors windows and other prominent features that add value.
Flooring: If the home has hardwood floors describe it as cherry walnut red oak etc.
Kitchen: Detail this area – it's important to almost every home buyer. List upgraded name brand appliances if they have double ovens large islands etc.
Energy efficiency: Any upgrades that reduce utility costs or increase convenience should be eliminated. Mention energy-efficient appliances like smart thermostats solar panels and high-efficiency washers and dryers.
Smart electronics: Many modern homes have Wi-Fi-enabled electronics such as thermostats doorbells sound system lights and more. Calling these out is a great way to add value to your home.
Nearby neighborhood amenities
When the community itself is a selling point you should mention it in the listing description. Remember you are selling a lifestyle that extends beyond your home property. Some of the community facilities highlighted in the list include:
Parks
Walking and biking trails
Restaurants
Shopping
Lakes, rivers and open spaces
Keep home descriptions concise
Whether you're writing a listing description for a luxury home or a repairman buyers want details and the better the home the more it will be rated. However sites like Multiple Listing Services (MLS) and Zillow have limited text space so keeping listing descriptions concise is key. average value A listing for a mid-rise home uses 60 words to describe it but the data shows that 250 words is the best choice.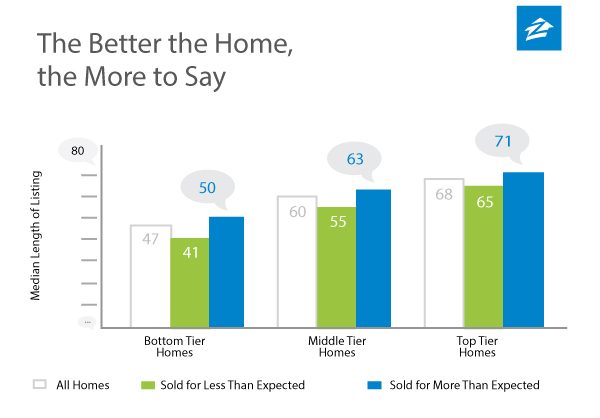 Here's a succinct example of a home description that highlights unique features including words that attract buyers and mention nearby amenities:
Enjoy your privacy without giving up city perks – this newly renovated two-story home is located on a quiet street in Seattle's Ballard neighborhood just two blocks from shopping dining parks and public transportation. Spacious open kitchen with upgraded granite countertops and Main level stainless steel appliances and new walnut floors in dining and living areas. Living room leads to a fully fenced backyard with large patio propane fire pit ripe fruit trees and lush lawn with in ground sprinkler system. Three bedrooms upstairs have Amazing views of Puget Sound and downtown Seattle. Master bedroom features private five piece bathroom with remodeled shower over large tub and 8 x 10 walk-in closet. Convenient upstairs laundry with high efficiency washer and dryer. Ample off-street parking with single car garage There is still room for two cars in the driveway. Downtown Seattle or nearby Bellevue are easily accessible by car or bus.
Provide an accurate portrait of the home
Picture your house honestly but don't sell it short. If the countertop is the only kitchen feature redone don't say the entire kitchen has been remodeled — but say "the kitchen was recently upgraded with a low-maintenance granite countertop."
Follow fair housing laws
Fair housing laws prohibit mentions of race national origin gender disability family status etc. in real estate listings. Always follow all applicable fair housing laws in your area.
Proofread each listing before posting
Edit the description of the house before posting to ensure spelling grammar is clear and accurate. Use a tool like a spell checker and have others view the description as well.
Do not use all caps or excessive exclamation marks:It looks like yelling or being overzealous. Sentences that sound unnatural can put buyers off.
Omit real estate acronyms and acronyms:You probably use them every day but the typical buyer has no idea what they mean. Many agents use acronyms to save space only to end up sacrificing clarity and confusing buyers.
Run the listing by a colleague or broker
Revisiting your property description is a great way to make sure you catch any mistakes and create a clear and readable listing. An experienced agent or broker will also be able to provide advice to improve the listing.
Work with the seller
Working with a seller will give you a unique perspective – the perspective of someone who lives and loves the home. They will be able to name their favorite features and describe any other benefits you might not have (like quiet neighborhood friendly neighbors etc.) realize.
Offer special promotions
Your goal is to sell your home quickly. Any incentives for buyers will help close the sale. Such incentives include:
Home warranty: Usually the seller can buy a one-year door-to-door warranty for the buyer. This adds value and reduces any uncertainty the buyer may have.
Credits toward closing costs: In a buyer's market it's sometimes a good idea to have the seller pay for some or all of the home's closing costs to attract more buyers.
Limited-time discounts: See if the seller is willing to offer a small discount on the sale price for a limited time.
Seller financing: This is when the seller acts as the buyer's bank for a period of time usually until the buyer is approved for a conventional loan. While the seller has to take the risk of the buyer defaulting it can open up the home to more buyers.
Flexible closing date: Let potential buyers know if sellers are willing to accept a quick close or a longer one. Some buyers are on a specific schedule.
Include a CTA
End your property description with a call to action (CTA). Your CTA will enhance the value of the home and force buyers to take action. Here are some examples of CTAs:
Don't miss out on this charming home – schedule a private tour today!
This unique home won't last long – schedule a show before it's gone.
Craft multiple versions
Write two or three versions of each property description highlighting the different characteristics that appeal to different buyers. For items that take longer to sell you can change the description every week to keep it fresh and show sellers your extra effort.
Using your listing description to tell each home's unique and engaging story will entice buyers to view it and ultimately make an offer. A good home description doesn't lie or exaggerate – you'll only disappoint buyers and you may be breaking the law. use Simple phrases can vividly paint what it's like to live in a home and community and you'll quickly notice how many buyers are interested in the home.
Real estate description checklist
The first priority of a real estate listing description is to help buyers understand the appeal of your home and easily identify the most compelling features. Here's a checklist to refer to when writing your list description:
Keep your description around 250 words.
Use catchy real estate titles to attract buyer interest
Include an opener describing what the buyer is looking for.
Include descriptive words that attract buyers.
Highlight unique home features and neighborhood amenities.
Picture your house honestly but don't sell it short.
Do not mention race nationality gender disability or family status.
Avoid all caps and exclamation marks for acronyms.
Correct any spelling and grammar mistakes.
Special promotions available when applicable.
Provide buyers with a call to action (CTA) for next steps.
Did you know?
You Can you use Katteb AI to automatically write real estate descriptions? Just sign up for a free trial and see it for yourself.