Feeling like you're running out of writing ideas? A sentence rewriter can help you come up with new and interesting phrases quickly. See our top ten tips for using these tools effectively.
You've arrived to the right site if you're seeking for article rewriter and spinner tools. We've compiled a list of the top article rewriter and spinner tools for rewriting sentences and paragraphs without losing their meaning. The created text will be free of plagiarism and simple to read and comprehend.
Content writing and copywriting for blogging necessitate a massive amount of writing. Writing may be both tiresome and exhausting in most circumstances. For time-conscious blog websites, putting up several blog articles for a time-bound audience may require a large number of authors to work for you, which can be unreliable at times. This is when an article rewriter and spinner tool comes in helpful.
It is ideal for beginning bloggers, SEO specialists, and students. With so many items on the market, it might be tough to decide which ones to buy. An article rewriter tool will assist you in rewriting texts from a particular article in a new format without jeopardising the information delivered.
Article spinning tools, on the other hand, are meant to work with SEO to create original articles based on previous ones. With so many article rewriters and spinner tools on the market, it's difficult to know who to trust. After all, you don't want plagiarism or inaccurate findings on your article. To avoid plagiarism in papers, you may also be interested in rewriter tools with the lowest plagiarism rate.
How to Improve Your Writing with a Sentence Rewriter
Even expert writers require the use of a sentence rewriter or paraphrase tool on occasion. Here are four typical applications for sentence changer generators:
Rephrase your phrases
When you write many articles a week, it's tempting to fall back on familiar terms that you overuse or even plagiarise. A sentence rewriter relieves the tension of utilising a thesaurus and assists you in avoiding plagiarism. Simply type your statement into the text box and let the gadget paraphrase it.
The Content Improver template from Katteb is ideal for this, especially because Katteb allows you to adjust the tone of the original material, making it more distinctive.
Make your sentences longer
Expanding sentences can help your readers understand your subject matter and demonstrate your experience. We hate to be fussy, but a well-expanded phrase (with no fluff!) will also help you easily meet your word count. This is when sentence change generators come in handy.
Make your sentences shorter
If, on the other hand, you are a verbose writer, you may want assistance in reducing your phrases. Shorter phrases are simpler to read and comprehend. They may also prevent you from exceeding your word limit and they're useful for social media material (hello, Twitter!) if you're not a lover of interminable threads.
Make your sentences shorter
Whether your audience is illiterate or not, everyone enjoys information that is simple to understand. As a result, it's better to use basic phrases and write at or below a 7th-8th grade level. Sentence rewording software makes your work more readable and fun to read than academic publications.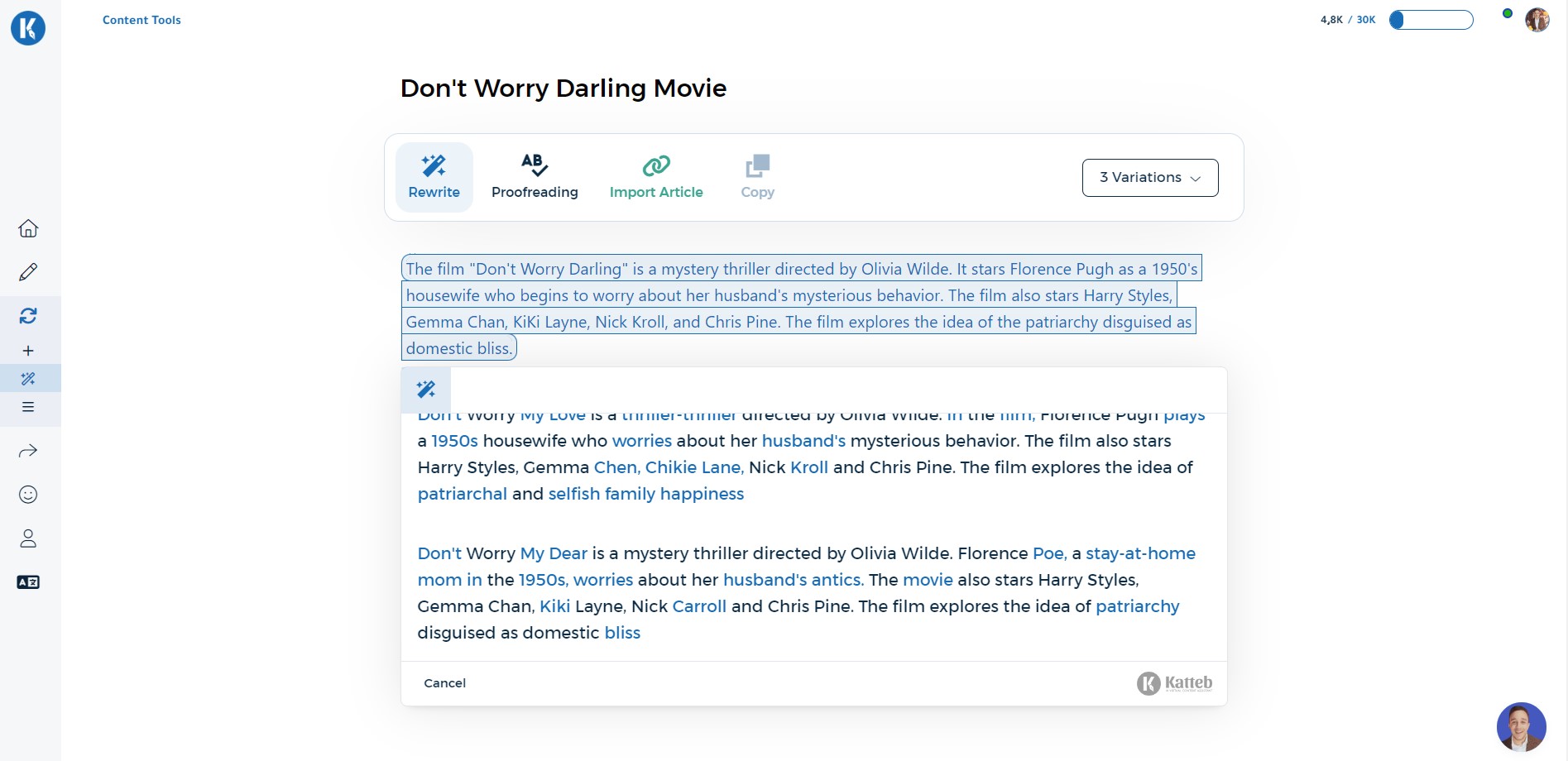 Katteb AI is the most accurate content generating platform, using cutting-edge artificial intelligence writing models to produce articles based just on a title. By being the first and only tool that provides fact-checked real-time updates, Katteb AI has raised the standard in the copywriting AI sector. Interest-based material at a far faster rate, with the suitable tone and style while remaining grammatically accurate, as opposed to other GPT-3 or copywriting software, which only writes about events that occurred before 2020.
Katteb Plus AI automates the process of producing unique, relevant, and well-written material depending on the preferences of authors. It is intended for use with any type of digital writing, including blog entries, social media postings, emails, and corporate papers. Even song lyrics may be written by Katteb AI!
The Fastest and Most Accurate Article Writing Service Using Two of The Most Advanced Artificial Intelligence Technologies GPT-3 and J1-Jumbo To Generate Articles in Less Than 60 Seconds.
Make Your Articles Appealing and Eye-Catching with Stock Free Images Suggested By AI.
We ensure that your articles are plagiarism-free using our plagiarism checker, so you do not have to worry about writing duplicate content.
Using our AI grammar checker, you can ensure your text is clear, error-free, and easy to understand. The software checks your text for many kinds of errors, including silly punctuation mistakes, nuanced grammatical errors, irregular verb conjugations, and misspelled words.
Key Features
Helps you write Books
Generate Blog Posts and Articles Introductions
Generate Facebook Ads Text
Summarize Long form Content
Professional Emails
Create Featured Snippets Using AI
Ads Targeting Ideas to Target the Best Audience
Generate Marketing Copy
Rewrite Content
Fix Grammatical Errors
Product Descriptions
Katteb Plus AI can even do song lyrics
2. SpinRewriter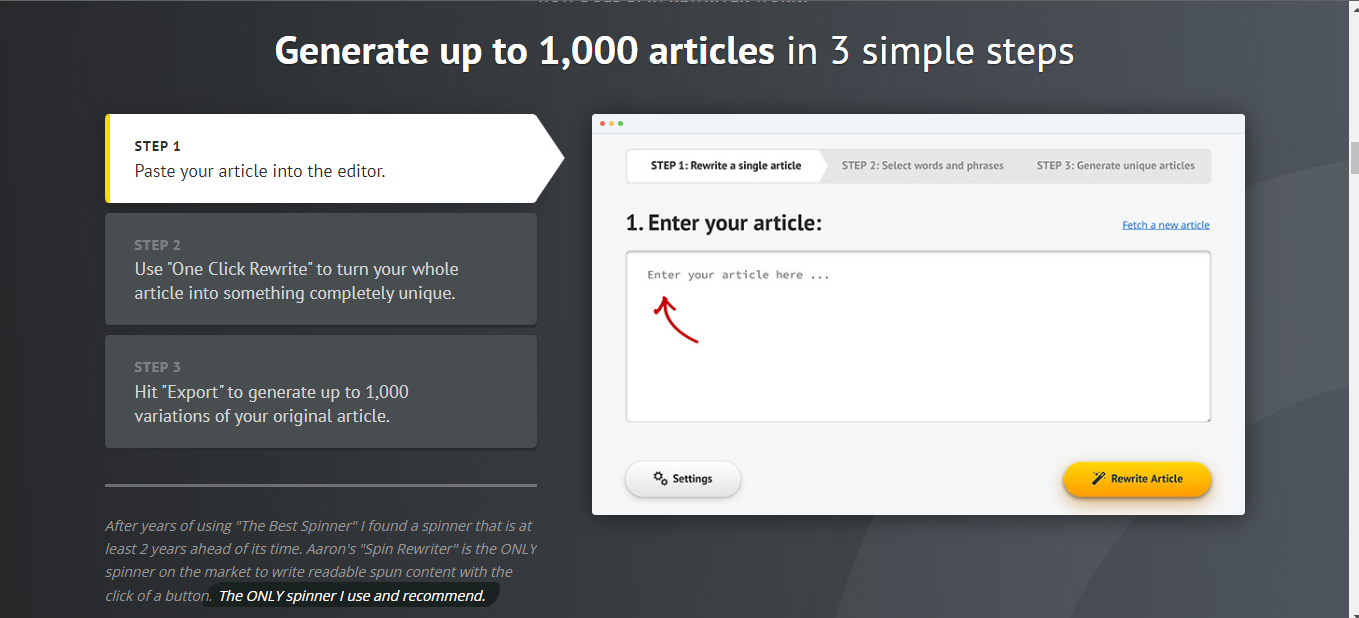 With over 150,000 users, SpinRewriter is a popular rewriting tool among beginner bloggers, SEO gurus, students, and anybody wishing to rewrite text. It converts a single or several articles into dozens of 100% original, human-quality articles.
In three simple steps, you may generate up to 1,000 articles.
Copy and paste your article into the editor.
To make your entire article absolutely unique, use "One-Click Rewrite."
To produce up to 1,000 variants of your original article, click "Export."
Key Features
Emulated Natural Language.
1,000+ distinct copies of original content.
Copyright-free photographs to your posts.
Article spinning in bulk.
Spin Rewriter is cloud-based
Extracting data and generating whole new content on its own.
3. The Best Spinner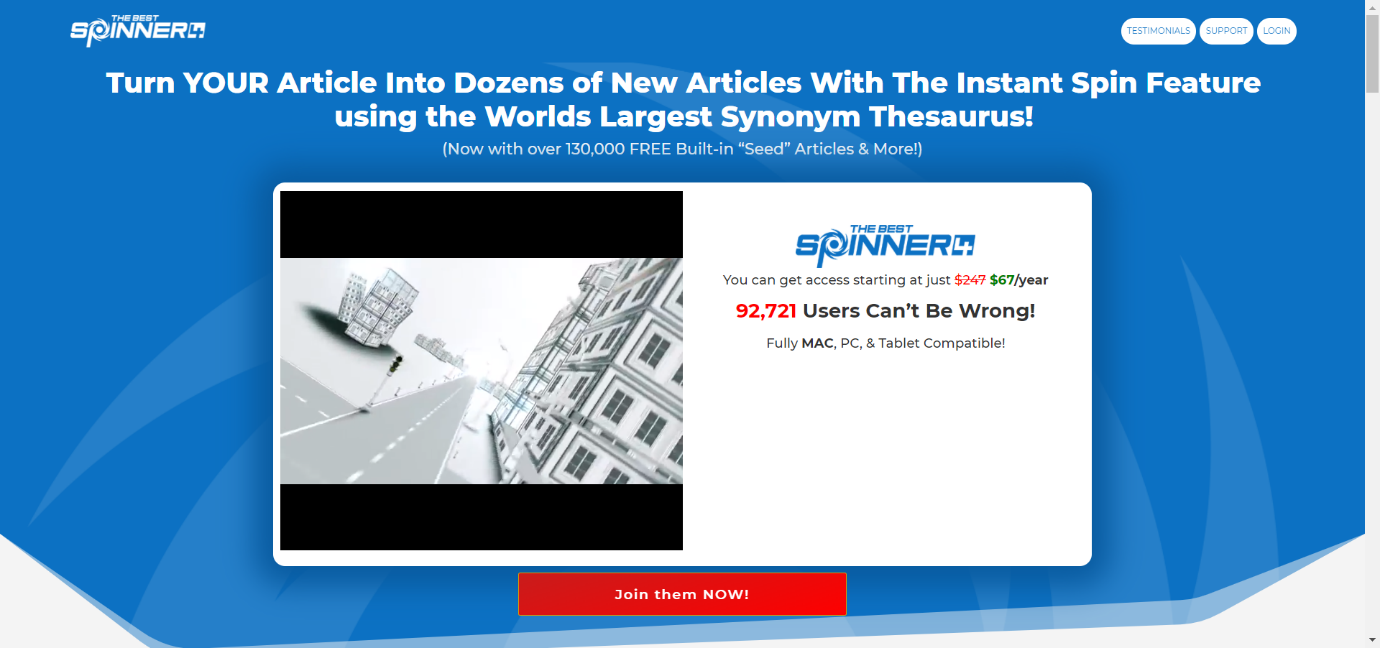 The Greatest Spinner 4.0 is one of the best article spinners on our list. It is downloaded programme that is compatible with Mac, PC, and tablet computers.
TheBestSpinner uses the World's Largest Synonym Thesaurus to instantly spin your content into dozens of new and unique articles. It also comes with 30,000 free Built-in "Seed" Articles and can compare any two articles side by side to assess how unique they are, as well as spot duplicated material.
Key Features
Easy super spun document
Translation into 15 main languages
Create an audio/mp3 file from any article
With 132,000+ Private Label Rights articles
Creates up to 100 spinning versions of your content into a ZIP file at a time.
Auto-Rewrite
It works on ANY PC or device
4. Clever Spinner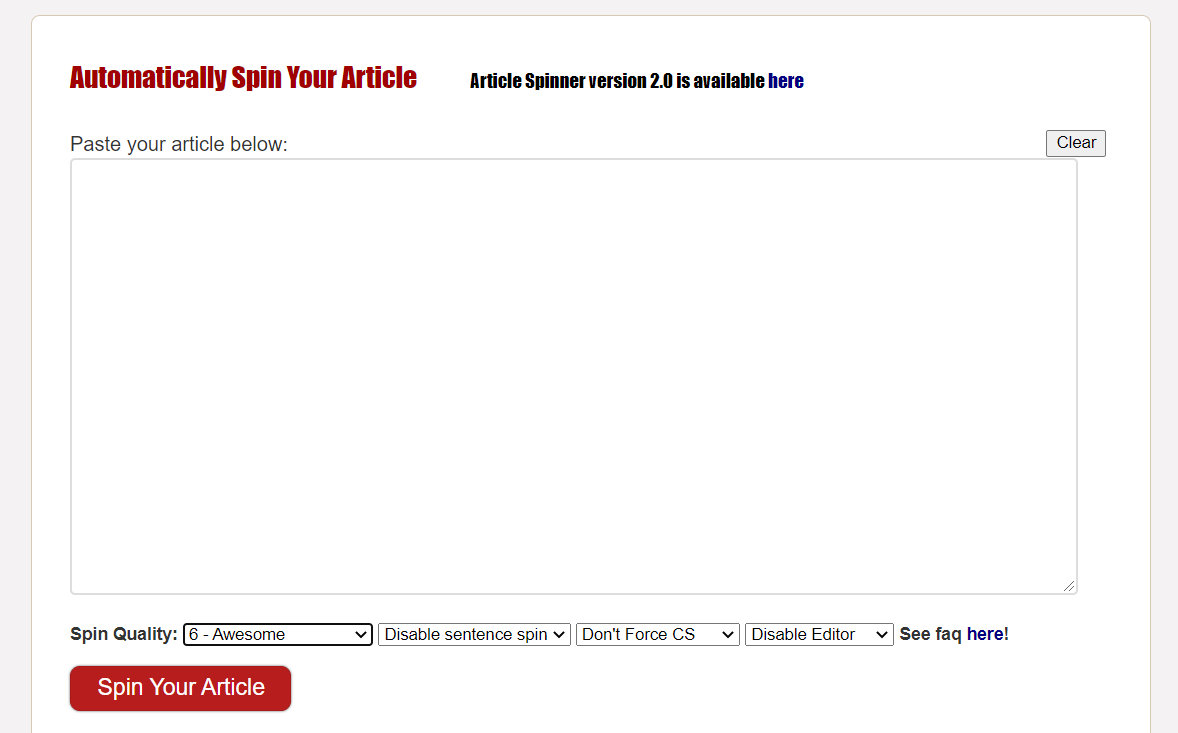 CleverSpinner allows you to paraphrase or generate original and readable material in seconds with a single click. It use artificial intelligence to rewrite your articles on a word, phrase, and sentence level with the same degree of quality as a content writer.
Key Features
Rewrites on word and sentence level
Correct synonyms
Rewrites 500-word in just a sec
5. SpinnerChief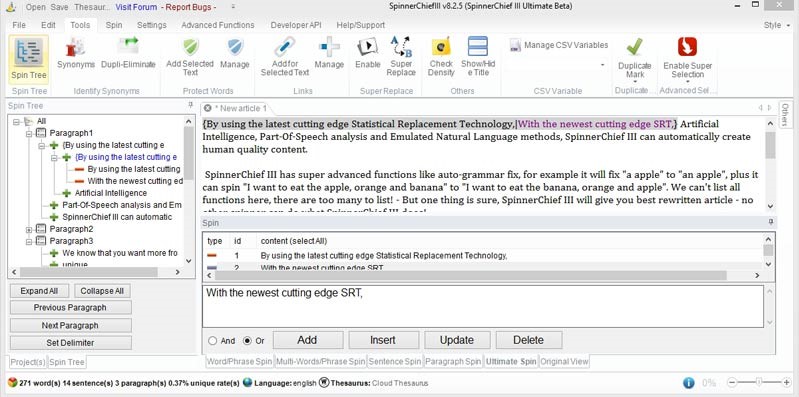 SpinnerChief has over 200,000 delighted clients since it generates hundreds of fresh articles in minutes for you using the greatest Natural Language Analysis and Artificial Intelligence approaches. SpinnerChief allows you to rewrite articles to achieve a high degree of human readability and originality.
Key Features
Fully automate the spinning
Over 200,000 people add new synonyms to our cloud thesaurus.
More than 20 languages support.
Advanced account is free.
You may use the ContentBomb function to scrape articles, photos, and videos depending on the keywords you provide, and then combine them to create a large number of new articles (not available in the free version).
6. WordAI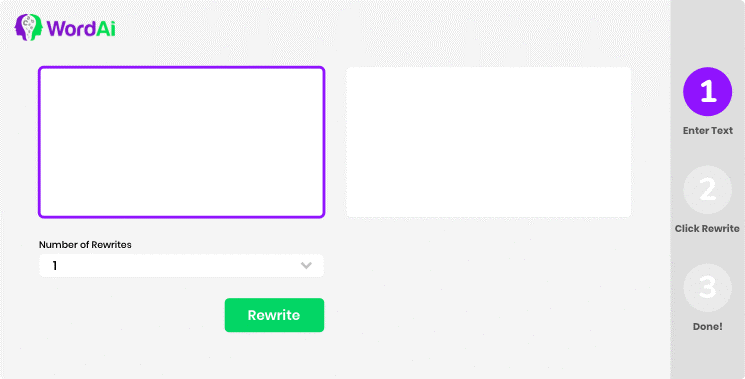 WordAi rewrites whole phrases and paragraphs for you. It completely comprehends the meaning of each word. It sees sentences as more than simply a collection of words; it sees them as living beings that interact with one another.
Key Features
Human-quality spinning with a single click.
Complete sentences and paragraphs are rewritten.
Produces entirely new stuff.
English, Spanish, French, and Italian are all supported.
7. Quilbot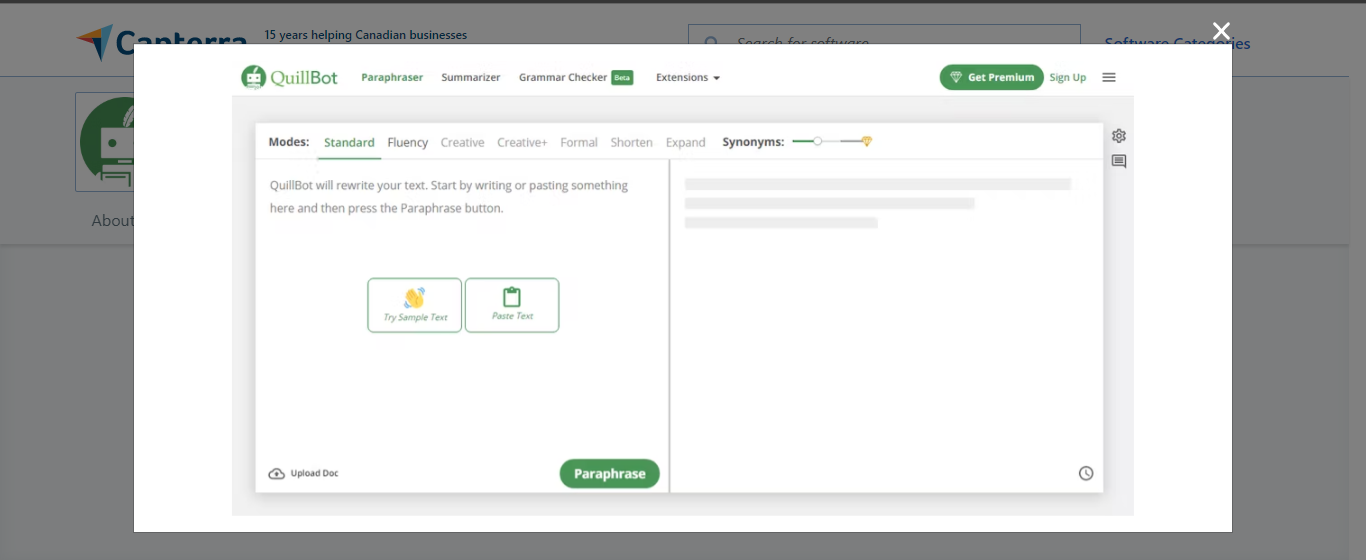 Using AI, this paraphrase tool allows you to rephrase phrases and whole articles. QuillBot can also adjust the tone and style of your work as well as correct grammatical faults as you rewrite it.
You can control how much of your text QuillBot changes, and you can select from a list of synonyms to discover the ideal word for your content. QuillBot also has a Summarizer tool, which may create output in bullet points or paragraphs.
Key Features
Allows you to choose specific synonyms
Fixes grammatical errors as you rewrite sentences
Integrates with Docs, Word, and Chrome
Works as a sentence and article rewriter
100% money-back guarantee for 3 days after
8. Chimp Rewriter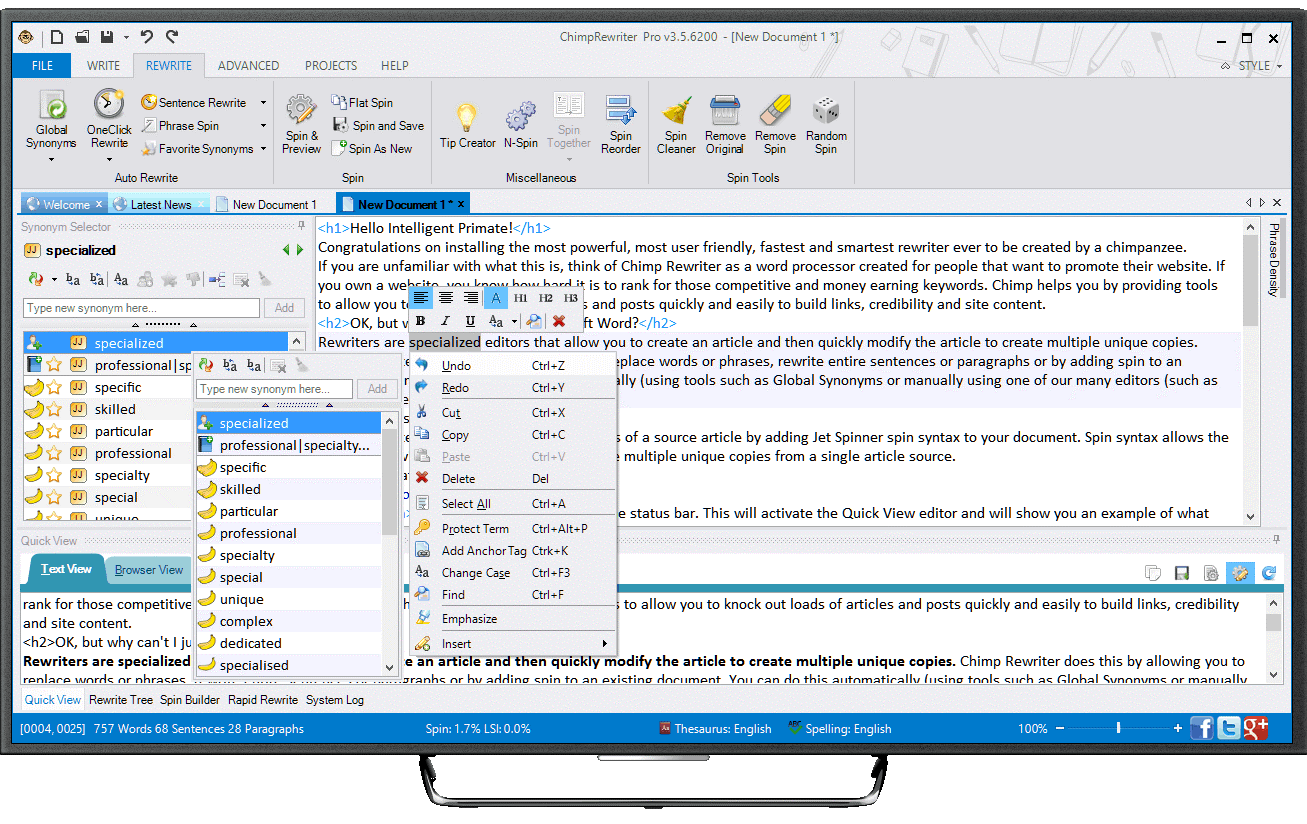 With the emergence of web apps, most users prefer to start most services through an enterprise's web app rather than their traditional browser. Chimp Rewriter understands this and provides the greatest downloadable desktop-based article rewriter application. The tool can do both article spinning and rewriting in a short period of time while retaining the original meaning not just for the entire article but also for individual sentences. Chimp Rewriter strives for maximal text understanding through optimal performance driven by an Artificial Intelligence tool and Natural Language Processing.
Key Features
Uses a variety of powerful techniques
Supports 12 Languages. The tool might very well be your greatest Spanish article spinner.
Provides simple integration with SEO tools.
Anchor spin, random anchoring and sorting, and N-spin are used to maximise permutations from the given word groups.
9. Content Professor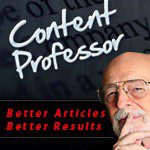 We're all seeking for a better approach to get through our everyday duties. When it comes to article spinning, you might want to check out Content Professor's easy-to-use article spinner system. The Content Professor has included online help into their programme to make it one of the easiest to use article spinners. A five-step guide follows to assist customers with any article spinning requirements they may have. Beginners have a thorough handbook to guide them through their article spinning adventure. The top-notch spinning features of Content Professor create an indelible impact on you.
Key Features
A large collection of up to ten thousand PLR articles
To avoid problems when spinning, it supports the addition and/or removal of selected synonyms from its database.
Has a sophisticated synonym system
Supports all spintax forms
Multilingual thesaurus.
Duplicate content checker and a spelling checker.
Integrates with Plagium and Copyscape plagiarism detection programmes.
10. SEO Tool Station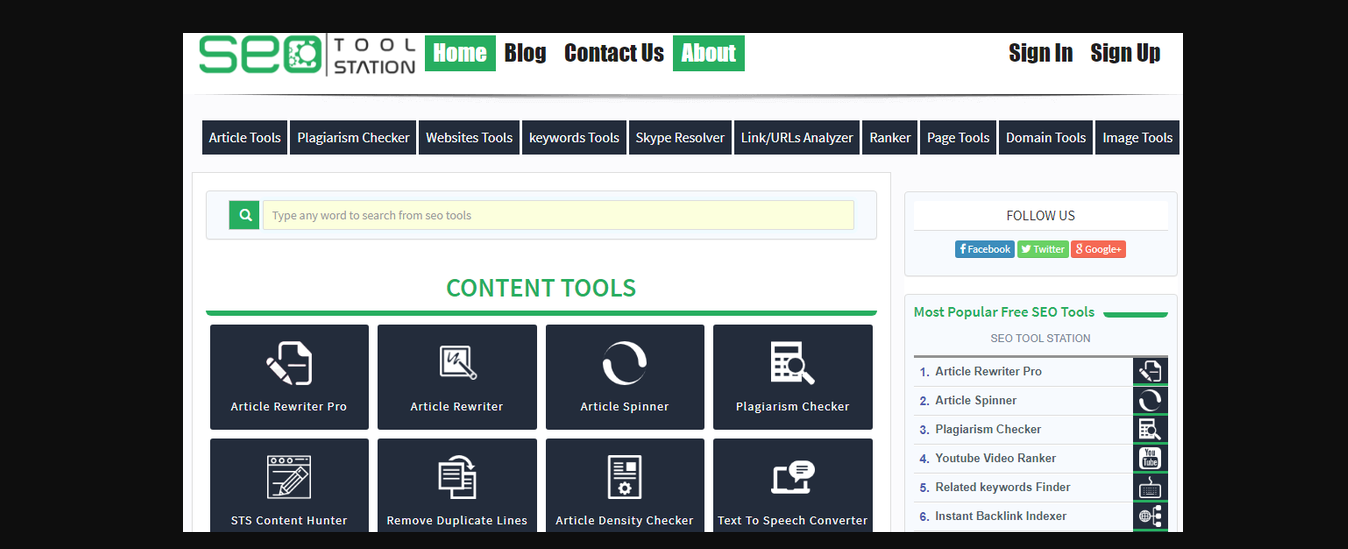 While SEO Tool Station is always free, there is more to what it offers, making it one of the greatest online tools for article rewriting. The platform's main selling point is its ability to function across the whole web. Thanks to content website features such as proxy tools, link analysers, keyword tracking, and backlinks, among others, which add value to what the platform has to offer content rewriters. When it comes to article rewriting, you just paste your material into the submission box given and submit for a free new article in a matter of minutes.
Key Features
Offers fast loading and responses
Supports plagiarism check
11. Article Rewriter Tool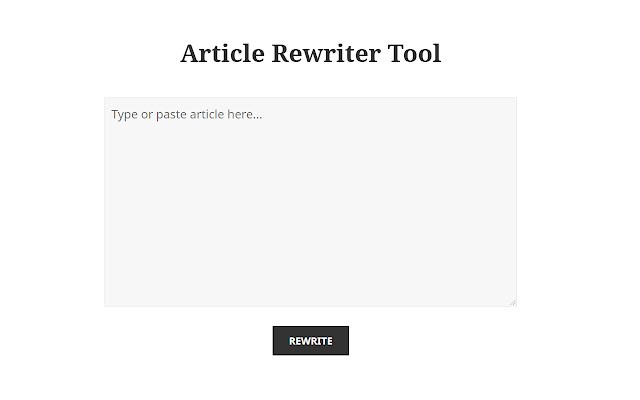 Article Rewriter Tool, which is powered by Spinbot Article Spinning API, is a free article spinning tool that you might want to try. If you want to rewrite a single sentence or a single short phrase, this tool is ideal for you. You may effortlessly obtain original and fascinating material for your blog using the programme without putting in any effort to create posts. Despite being free, you can spin as many words as you like at once without worrying about length.
Key Features
Powered by Spinbot Article Spinning API
Free article spinning tool
Good for rewriting a single statement or a single short phrase
Its free
12. Paraphrase tools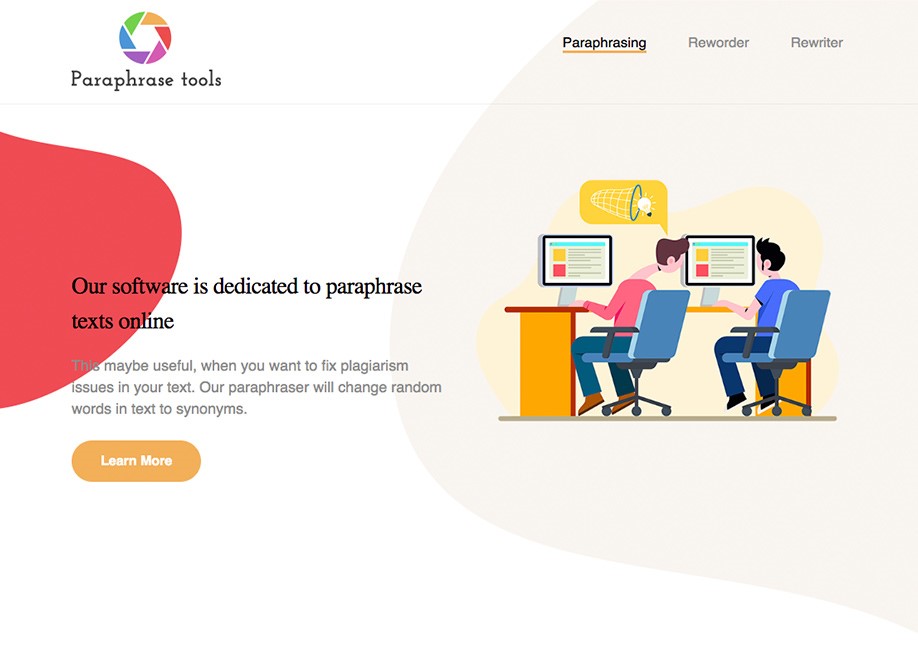 Paraphrasingtools is a rephrasing tool that generates synonyms for words by utilising its extensive word bank of over 200 rules. When you add text into the provided text pad, the rephrasing tool recognises and removes unnecessary sentences, making the overall material shorter, sharper, and cleaner. You should absolutely use their free rewording tool with up to 350 characters to see how it works.
Key Features
Paraphrasing expert in the English language.
Offers free plan up to 500 words.
Word library with 15000 different words.
Checks writing against its database of over 200 rules to create unique content.
13. Outwrite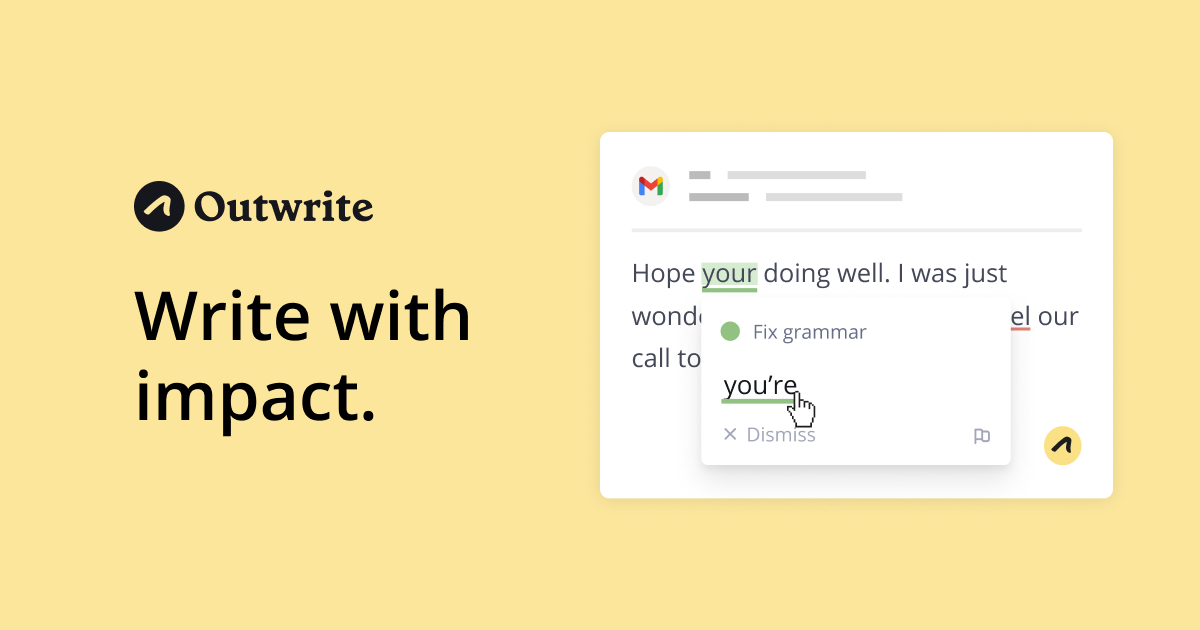 Outwrite's Premium plan provides readers with a variety of sentence and article rewriting services. Sentences can be improved, expanded, or shortened. The tool also suggests further lexical, stylistic, and structural enhancements.
Outwrite works nicely with a variety of platforms, including Google Docs, Outlook, WordPress, Facebook, and LinkedIn. Furthermore, if you have a Chrome browser, you may utilise the extension.
Key Features
Provides sentence rewriting recommendations
Makes grammatical and spelling suggestions
It is compatible with a wide range of different work platforms.
Checks for plagiarism to ensure unique material.
Free 7-day Premium trial for new users
14. Ginger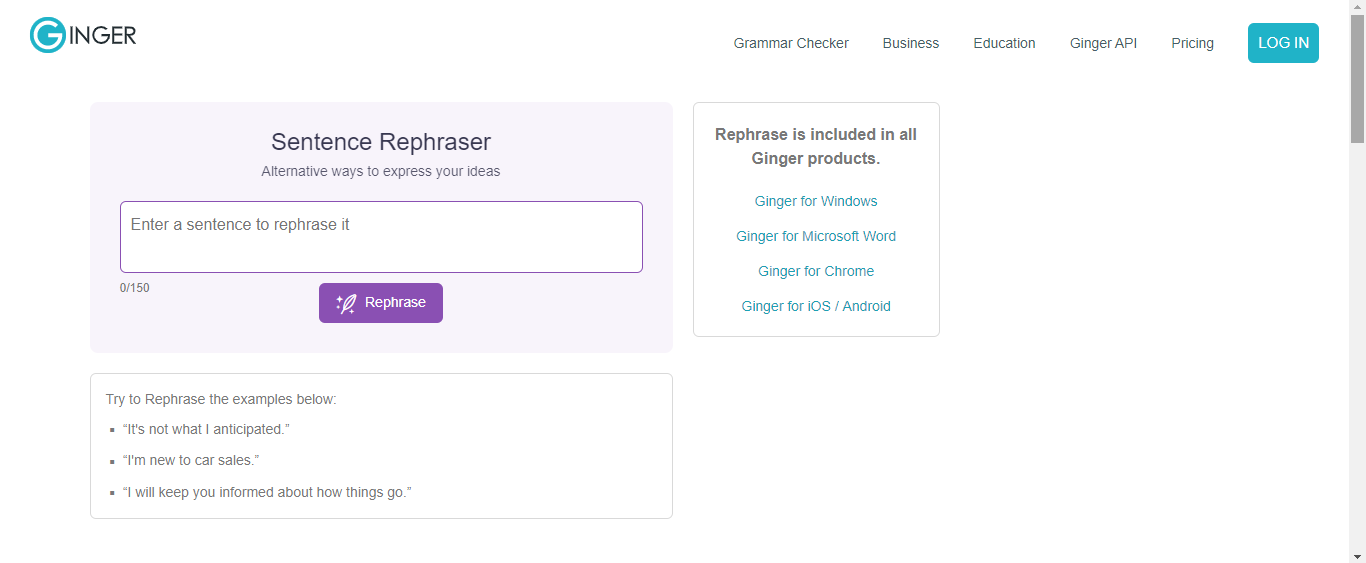 This sentence paraphraser focuses on sentence rephrasing using synonym substitution. Ginger will modify a handful of synonyms for each sentence you enter in to give alternate wording.
The free plan only allows for a limited amount of reseeds, but the Premium subscription allows for an infinite number of generations. You also receive a grammar checker, more synonyms, and translation services.
Key Feature
Rephrases short texts by swapping words for synonyms
Provides grammar checks on the paid plan
Allows for translation into 40 languages
15. INK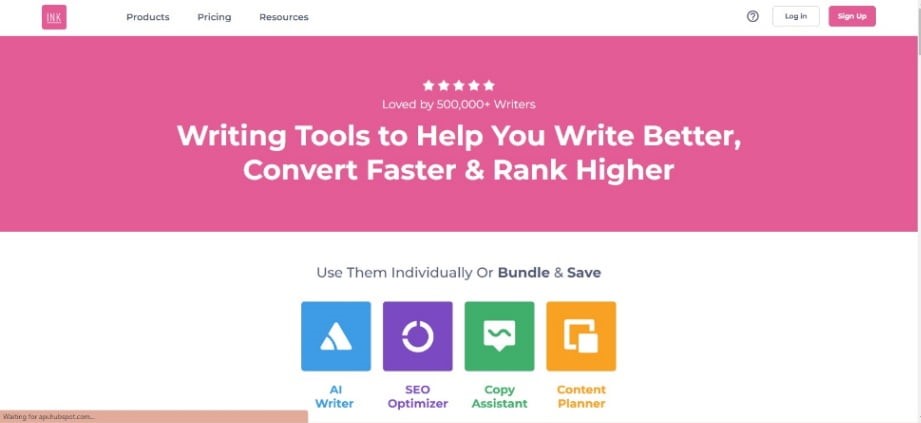 INK is an AI-assisted writing and SEO aid. You may use their phrase rewriting service to simplify, extend, or shorten content as needed. INK has an unobtrusive UI and allows you to produce as many output choices as you need.
Key Features
Downloadable for Mac, Windows, and Linux
WordPress plugin to edit on your CMS
Tools to simplify, reword, and expand your text
Robust free plan
Assist your sentences in reaching their maximum potential
Content writing is considered the core foundation of a blog or website to market the brand, attract potential customers and audience and boost sales. However content writing has always been a tedious and time-consuming process, but with the power of artificial intelligence (AI), writers can have an easier and faster writing process.
If you're sick of wishing you could wave a magic wand over specific words in your content, this collection of rewriting tools is for you. Katteb, a comprehensive writing helper with templates that do more than just replace synonyms, is our top pick.
Katteb rethinks your texts, expanding, summarising, simplifying, and improving them as appropriate. Try out the service to help your material achieve its greatest potential – and to enhance your writing abilities. Sign up for Katteb right now.