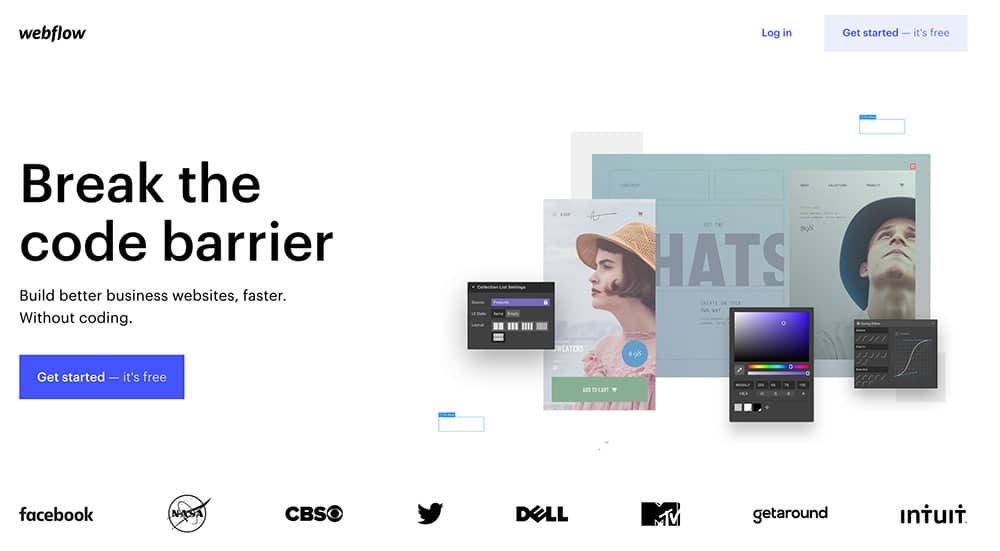 I. Introduction
What is Webflow?
Webflow is a website building platform that allows users to create custom websites and online stores without the need for coding. It combines visual design tools with powerful development capabilities, making it a popular choice for both designers and developers. With Webflow, users can design and build websites that are not only visually appealing but also functional and responsive across different devices.
Webflow has gained popularity for its user-friendly interface and intuitive drag-and-drop features. It offers a range of templates and design elements that can be customized to suit individual branding needs. Whether you are building a blog, an eCommerce store, or a corporate website, Webflow provides the tools and flexibility to bring your ideas to life.
Benefits of using Webflow to build a website
Using Webflow to build a website offers several benefits:
1. Design control: Webflow allows users to have complete control over the design of their websites. From typography to layout, users can customize every aspect of their site to create a unique and visually stunning experience for visitors.
2. Responsive design: Webflow automatically generates responsive code, ensuring that websites look great on all devices, including desktops, tablets, and mobile phones. This saves time and effort in creating separate designs for different screen sizes.
3. Time-efficient development: With Webflow, users can design and develop their websites simultaneously, reducing the time typically required for handoff between designers and developers. This streamlined workflow allows for faster prototyping and iteration.
4. Hosting and CMS integration: Webflow provides hosting services and a built-in content management system (CMS), allowing users to publish and manage their websites in one platform. This eliminates the need for additional hosting and CMS solutions, simplifying the website management process.
5. SEO-friendly: Webflow is designed with SEO best practices in mind, making it easier to optimize websites for search engines. Users can easily add metadata, create clean URLs, and implement other SEO techniques to improve their website's visibility.
In summary, Webflow offers a powerful and user-friendly platform for building custom websites. It provides designers and developers with the tools and flexibility needed to create visually stunning and functional websites from start to finish. [1][2][3][4]
II. Webflow Features
Webflow offers a range of features that make it a popular choice for website builders. Here are some of the key features that set Webflow apart:
Drag-and-drop interface
Webflow has a user-friendly drag-and-drop interface that makes it easy to create and customize your website. You can simply drag elements onto the canvas and position them wherever you like, allowing for complete control over the layout and design.
Responsive design capabilities
With Webflow, you can ensure that your website looks great on all devices. The platform provides responsive design capabilities, allowing you to create websites that automatically adjust to different screen sizes and resolutions.
Extensive design customization options
Webflow offers extensive design customization options, allowing you to fully personalize your website. You can choose from a wide range of fonts, colors, and styles, and even add animations and interactions to create a more engaging user experience.
E-commerce functionality
If you're looking to sell products or services online, Webflow has got you covered. The platform offers e-commerce functionality, allowing you to set up an online store, manage inventory, and process payments.
SEO tools
Webflow provides built-in SEO tools that help improve your website's visibility in search engine results. You can easily optimize your pages for search engines by adding meta descriptions, image alt tags, and targeted keywords.
Third-party integrations
Webflow integrates with various third-party apps and services, allowing you to extend the functionality of your website. From email marketing tools to analytics platforms, you can seamlessly integrate these services into your Webflow website.
These features make Webflow a powerful and versatile website builder, suitable for both beginners and experienced designers. With its intuitive interface and extensive design options, Webflow allows you to create stunning, responsive [5][6][7][8][9][10][11][12][13][14]
III. Webflow Pricing
When considering building a website, it's essential to understand the pricing options that Webflow offers. Webflow provides different pricing plans for both websites and e-commerce, allowing users to choose the plan that suits their needs and budget. Here's an overview of Webflow's pricing tiers:
Different pricing plans for websites and e-commerce
Website Plans:
Basic Plan: This plan is suitable for simple websites and static pages, with up to 100 pages and 25,000 monthly visits.
CMS Plan: Ideal for content-driven sites like blogs, this plan can handle up to 100,000 monthly visitors and includes additional features such as search functionality.
Business Plan: Designed for larger sites generating substantial traffic, this plan supports up to one million monthly visits and includes unlimited form submissions.
Enterprise Plan: Customizable to specific needs, this plan includes all the features of the Business plan and additional support features.
E-commerce Plans:
Standard Plan: A starter plan for selling products online, it allows for up to 500 items and is suitable for sites generating up to $50,000 in annual sales.
Plus Plan: Designed for more established e-commerce sites, this plan includes up to 1,000 items and offers additional features from the Business website plan.
Advanced Plan: Suitable for online stores scaling beyond $200,000 in annual sales, this plan includes up to 3,000 items and all the features of the Plus plan.
Comparison of pricing tiers
For a detailed comparison of Webflow's pricing tiers and their respective features, visit the Webflow Pricing page. This will help you determine which plan aligns with your specific requirements and budget. [15][16][17][18]
IV. Webflow Pros and Cons
When considering using Webflow as a website building tool, it's important to weigh both the advantages and drawbacks. Here are some key points to consider:
Advantages of using Webflow
Design Flexibility: Webflow is known for its design flexibility, allowing users to create highly customized and visually impressive websites. It offers a wide range of templates and customization options to suit different industries and styles.
No Coding Required: Unlike traditional website builders, Webflow allows non-programmers to build websites without writing a single line of code. This makes it accessible to a wider range of users.
Content Management System (CMS): Webflow offers a built-in CMS, allowing users to easily manage and update their website's content. This is particularly useful for blogs and websites with dynamic content.
Responsive Design: Webflow's websites are automatically responsive, meaning they will adapt to different screen sizes and devices. This ensures a seamless user experience across desktop and mobile devices.
Drawbacks of using Webflow
Pricing Complexity: Webflow's pricing structure can be complex and confusing, with separate plans for hosting, site building, and collaboration. This can make it difficult for users to determine the total cost of using the platform.
Learning Curve: While Webflow offers a user-friendly interface, there is still a learning curve involved, especially for users who are new to website design and development. It may take time to fully grasp and utilize all of the platform's features.
Limited E-commerce Functionality: While Webflow does offer e-commerce functionality, it may not be as robust as dedicated e-commerce platforms. Users with complex online stores or extensive product catalogs may find the limitations of Webflow's e-commerce features restrictive.
Overall, Webflow is a powerful website building tool that offers great design flexibility and a range of features. However, it's important to consider the pricing complexity and any limitations that may impact your specific website needs. [19][20][21][22]
V. Webflow vs Other Website Builders
Comparison with popular website builders like Wix and Squarespace
When comparing Webflow to other popular website builders like Wix and Squarespace, there are a few key differences to consider:
Design Customization: Webflow offers more flexibility and design customization options compared to Wix and Squarespace. With Webflow, users have complete control over the design elements of their website, allowing for more creative freedom.
Ease of Use: While Wix and Squarespace are known for their user-friendly interfaces, Webflow has a steeper learning curve and may require some technical knowledge. Beginners may find it more challenging to navigate compared to the more intuitive interfaces of Wix and Squarespace.
Template Designs: Squarespace is widely regarded for its stunning template designs, with high-quality options that are suitable for a wide range of industries. Wix also offers a vast selection of templates, including a variety of industry-specific designs. Webflow's templates, while not as visually impressive, offer more customization options.
Strengths and weaknesses compared to competitors
Webflow's strengths compared to its competitors include:
Advanced design customization options.
Integration with third-party apps and services.
More control over SEO and site performance optimization.
However, Webflow also has some weaknesses when compared to other website builders:
Steeper learning curve and may be more challenging for beginners.
Limited customer support options compared to Wix and Squarespace.
Higher pricing plans compared to some competitors.
Ultimately, the choice between Webflow and other website builders depends on the specific needs and preferences of the user. [23][24][25][26]
VI. Webflow User Reviews
Feedback from users who have used Webflow to build their websites
Webflow has gained a loyal user base, and many individuals and businesses have used the platform to create stunning websites. Here is some feedback from real users on their experiences with Webflow:
"I love the visual designer in Webflow. It makes it easy to create pages and build components, and the ability to reuse them site-wide speeds up the process." – John, web designer
"Webflow's CMS is powerful and user-friendly. It allows me to easily manage content on my site without needing coding skills." – Sarah, blogger
"The extensive template library in Webflow offers a wide range of options for different industries. The templates are modern and customizable, making it easy to create a unique website." – Mark, small business owner
Pros and cons based on user experiences
Based on user feedback, here are some pros and cons of using Webflow:
Pros:
Great visual designer for creating pages
User-friendly content management system
Extensive template library with modern designs
Customizable templates that can be tailored to specific needs
Regular updates and improvements to the platform
Cons:
Pricing structure can be complex and confusing
Steep learning curve for beginners without design or development experience
Limited customer support options, with only email support available
It's important to consider these user experiences when deciding if Webflow is the right website building tool for your needs. [27][28][29][30]
VII. Conclusion
Summary of the key points discussed
In this Webflow review, we have explored the features, ease of use, and pricing of the platform. Here are the key points discussed:
Webflow is a responsive website builder that offers great design customization options without the need for coding knowledge.
The platform provides a wide range of templates, both free and premium, that are well-designed and responsive to different screen sizes.
Webflow offers features like parallax scrolling, animations, interactions, and advanced SEO options, making it suitable for creating visually appealing and optimized websites.
The platform has a helpful help center and community forum where users can find guides and tutorials and seek assistance from others.
However, Webflow lacks some features compared to other website builders, and its prices can be higher than average.
Final thoughts on whether Webflow is an effective website-building tool
Overall, Webflow is a powerful website-building tool, especially for users who value design customization and want to create unique and visually stunning websites. However, it may not be the best option for beginners or those looking for extensive built-in features. The learning curve can be steep, and the prices may be a deterrent for some users. If design flexibility and customization are essential to you, and you are willing to invest time and effort in learning the platform, Webflow can be a highly effective tool for building your website.
Ultimately, the choice of a website builder depends on your specific needs and preferences, so it's recommended to try out Webflow's free plan or explore other options before making a decision. [31][32][33][34]
TLDR: Webflow is a user-friendly website building platform that allows users to create custom websites and online stores without coding. It offers design control, responsive design capabilities, time-efficient development, hosting and CMS integration, and SEO-friendly features. Webflow also provides drag-and-drop interface, extensive design customization, e-commerce functionality, SEO tools, and third-party integrations.
It offers different pricing plans for websites and e-commerce, with tiered options based on specific needs. Webflow has pros such as design flexibility and no coding required, but it has drawbacks like pricing complexity and limited e-commerce functionality. When compared to competitors like Wix and Squarespace, Webflow offers more design customization options but has a steeper learning curve.
User reviews generally highlight the visual designer, user-friendly CMS, and extensive template library as pros, but there are also concerns about the pricing structure and limited customer support. Overall, Webflow is a powerful website-building tool for users who prioritize design customization, but it may not be ideal for beginners or those seeking extensive built-in features.